I've painstakingly assembled the most subjective and epic list of the year - my favorite music of the year. And since having a "Top 12 Albums of the Year" post would be kind of odd, here are...
The Honorable Mentions
You're still pretty wonderful!
Feist: The Reminder
No one really knew who in-the-name-of-Quebecois this chick was until she popped up in iPod ads, Verizon ads, Starbucks shops, and on the soundtrack for
Paris, Je T'aime
. This attention, albeit a bit overdue (and a lot bit over-commercialized), is well-deserved.
The Reminder
is a much needed creative jolt to the bland pop scene of late. Her voice is a little bit raspy, a little bit sexy, and charmingly cracks with soulful sincerity. "How My Heart Behaves" is a slow, confessional with male backing-vocals, lending this feminine ballad a calloused hand. "
1 2 3 4
," "
I Feel It All
," and "Past in the Present" are... feisty tunes - pardon the pun, but it's true. Check out Feist's older
Let It Die
for a
hip lounge sound
blended with acoustic sensibility.
Interpol: Our Love to Admire
Interpol is moody NYC/Brit-infused rock, brought to you by scenesters with a bit of soul. They create perfect music for winter's darkest days and the darker end of your life's spectrum of moodiness. That's not to say everything they do makes you want to dress in tight black clothes and straighten your hair - "
Heinrich Maneuver
" has flamboyant vocals and a beat so energetic it practically stumbles over itself. Highlights like "Pioneer to the Falls" and "
Scale
" chug uphill with a dark pulse and riffs to match.
While Interpol haven't really stretched their proverbial wings too much with this record, if it ain't broke...
The Top Ten
You're arbitrarily better!
10 | Rogue Wave: Asleep at Heaven's Gate
I was excited for Rogue Wave's new album.
Descended Like Vultures
was a great record, and they've been making strides with their relatively new and unique sound with each album. This year's effort was a solid compilation, with the amazing single, "
Lake Michigan
" leading the way. The album builds up and tumbles down, going from a cacophony to soft vocals - and that's just starting with the opening track, "Harmonium." "Chicago X 12" and "Ghost" are about as pop-ish as Rogue Wave is probably ever going to get, but they're skillful, jaunty songs. "Lullaby" and "I Can Die" (a bonus track) are pulsing and edgy, leading the listener through a mountainous aural landscape in true Rogue Wave fashion.
9 | Spoon: Ga Ga Ga Ga Ga
I've jumped, or rather stumbled, on the bandwagon. Austin-natives, Spoon, have released a surprisingly artfully accessible and tight record with this year's
Ga Ga Ga Ga Ga
. With a smattering of horns and ample usage of tambourine, "You Got Yr. Cherry Bomb" and the upbeat anthem "
The Underdog
" guarantee Spoon a much broader audience, but... who cares? They're damn good songs. It's tracks like the indignant, unabashed growling rock of "Don't Make Me A Target," the funky "Finer Feelings," and the sassy and sexy "Eddie's Ragga" that will keep this album in heavy rotation in one's collection. They're sweet talking rock to come in a new direction... and they're quite persuasive. It's time to give credit where credit is due.
8 | Amy Winehouse: Back to Black

She's walking disaster. And she totally stood up my friends at ACL. But the girl's got pipes.
With
Back In Black
, Winehouse teamed up with super producer Mark Ronson and constructed a Motown vibe that's so spot-on, it sounds like it was yanked straight from a Detroit studio in the 60's... but with a lot more vulgarity. Smooth and solid bass lines, daintily chattering piano, pulsing horns and ample use of high-hat give this record a gorgeous instrumental foundation. On tracks like "
These Tears Dry On Their Own
" and "
Back to Black
" Winehouse's voice is smoother than velvet but not short on character with its smoky undertones and solid range. Let's hope this girl pulls it together.
7 | Travis: The Boy With No Name
I have a little spot in my heart for Travis. Maybe it's because they're Scottish. Or maybe because the lead singer goes by "Fran." Or maybe that they were one of the first bands that I liked that actually made music that is widely accepted as
good
, and continues to do so, almost ten odd years after I "discovered" them.
Their previous LP,
12 Memories
was a solid, introspective record... but maybe kinda sorta... dark. Post-bad breakup kind of dark. And I think a lot of Travis fans were afraid that the band was headed down a gloomy path, never to return to the acoustic jam with soul and sincerity that they did ohso well. Well, the boys are out of the woods - they've got smiles on their faces and they're clicking their heels. "
Selfish Jean
" is nothing but fun:
you keep the chocolate biscuits wired to a car alarm, oh selfish Jean!
And while songs like "Big Chair" and "Out In Space" are vaguely reminiscent of the sound of
12 Memories
, their videos for the lovely tracks "
My Eyes
" (a song Fran Healy wrote for his son) and "
Closer
" (complete with famous cameo), show that they're back to their old, charming selves. To quote Mr. Healy, "welcome in."
6 | Benjamin Biolay: Trash Yéyé
I'm probably the only person on the eastern seaboard who can say this... but I've been waiting for
Trash Yéyé
from Benjamin Biolay for months. I'm relieved the record has lived up to the hype that I attached to it so prematurely.
Benjamin Biolay has an exceptional handle on producing and composing tunes, and this album is no different. He's come further in his ability to manipulate sound, and the album is a considerable step forward. He's taken the best musical elements of
Negatif
(i.e. grand, swooping orchestral riffs), and the adventurous bold confidence of
A L'origine
to create what is probably his best work yet. The album is cohesive and strong throughout - sexy and smooth. Even the single, "
Dans la Merco Benz
," has grown on me.
In France, he's earned the monicker of "the new Serge Gainsbourg," but other than the nicotine-coated mellow vocals, it's an unfound nickname. Biolay deftly avoids the kitsch that bogs down the legacy of Gainbourg, all while remaining faithfully... "French." With
Trash Yéyé
, Benjamin Biolay continues to expand on his career of truly being a musicians's musician.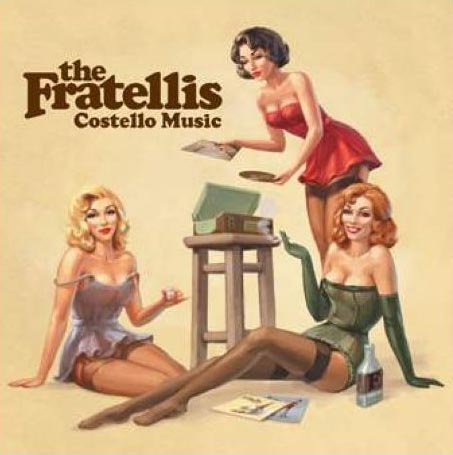 5 | The Fratellis: Costello Music
The Fratellis hail from Scotland and if you listen closely, you can hear them playing from here... Loud and belligerent tracks like "
Chelsea Dagger
" and "
Baby Fratelli
" make this the record of the year that makes you want to get drunk in a bar and sing ("la la's" and "na na's" abound on this record)... or fight.
Costello Music
would make the perfect musical accompaniment for the pastime of "Guinness and fights..." not that I know anyone who engage in such an activity.
It has its moments of sweetness and sentimentality, tempered by brash honesty, e.g. "
Whistle for the Choir
":
So if you're crazy / I don't care - you amaze me / But you're a stupid girl...
They're like a less squeaky clean version of Ok-Go... so pretty much Ok-Go if they grew up in Glasgow. There's a retro feel to many of the songs, like "Creepin' Up The Backstairs," with its warm, simple production and the pace of the acoustic guitar.
Costello Music
does not feed starving children in Africa or give you answers to life's deepest, darkest questions, but it is a whole lot of freaking fun. And the best part is that the Fratellis know it.
4 | Andrew Bird: Armchair Apocrypha
I'd be lying if I said this year's release from Andrew Bird was as warm and oddly comforting as 2005's
The Mysterious Production of Eggs
, but Andrew Bird is the thinking man's musician with the vocabulary of a lonely librarian, and has earned the right to do as he damn well pleases. This album is a tad production-heavy, but AB uses it as an exuse to try some new things. "
Imitosis
" is painfully clever and so lively it practically gives you a wink. The epic "Armchairs" slowly builds itself up and tears itself down, meandering between lonesome boredom and bemused anger:
you didn't write/ you didn't call/ it didn't cross your mind at all
- a surprisingly intimate line for a man who rarely sings without a substantial veil of metaphors. But don't get bogged down with emotion - "Darkmatter" slingshots you through space with a galloping drumbeat, pure energy and a little of that famous Bird whistle. "Scythian Empires" and "Simple X" march along with airy substance - warm and upbeat with amazing violin work (as per usual.) There's hardly a fault to be found with that Mr. Bird...
3 | Glen Hansard & Marketa Irglova: Once: Music from the Motion Picture
There's no excuse not to be familiar with the movie
Once
- it's out on DVD now, so you should already know why this soundtrack is so darn good. Written and recorded and all that jazz by singers/songwriters/actors Glen Hansard (Guy) and Marketa Irglova (Girl), it's plain to see (aka hear) that they were fully invested in these songs. The tracks fit the film perfectly: simple and beautiful, usually ebbing somewhere between toe-tapping and tear-jerking. "
Falling Slowly
" was the song they pushed when the film came out, but it's not the only piece of brilliance on there; "When Your Mind's Made Up," "Fallen From The Sky" (the baby Casio keyboard!), and "All The Way Down" are all tremendous pieces of work from the best co-ed duo since Damien Rice and Lisa Hannigan... who are also Irish. Coincidence? I think not.
2 | Aqualung: Memory Man
Matt Hales, the
ridiculously adorable
and
delightfully clever
one-man-band, Aqualung, released his finest assemblage of musicality to date. It's a bright and beautiful collection, more energetic than its predecessor, the lovely but down-tempo
Strange and Beautiful
. "
Cinderella
" is a beautiful, tumultuous song, filled with vocals that sink and soar, built to match the delicate brushes of piano keys alternating with the deafening slamming of the bass strings.
But wait - there's more!
"Outside" and "Rolls So Deep" are appropriate roll-the-windows-down type tunes for a summer's day. Even "The Lake," a haunting track, has an "oomph" that wasn't really present in his previous work. It seems that he's received a long overdue boost of confidence. Aqualung has grown leaps and bounds with this album and deserves every bit of praise he's received and then some.
1 | Josh Ritter: The Historical Conquests of Josh Ritter
It's extraordinarily difficult to write about Josh Ritter's music without gushing a bit. His 2006 release,
The Animal Years
, comes out of its package fully assembled - leaving this feeling that your job as a listener shouldn't be that easy. It's beautiful and thought-provoking - but like Bernini's
David
(the ultimate A-Town compliment) - it's finished - polished and prime for admiration.
The Historical Conquests
comes with some assembly required. The record throws you around a bit - your hands get dirty, you sweat and laugh and cry and are ultimately left with a feeling of immense satisfaction. This album feels more interactive, more aggressive - like you've spent all day raising a musical barn and at the end of the whole thing, Josh Ritter's going to be standing there, ready with a cold beer and a celebratory slap on the back. From the roaring "Real Long Distance Call," to the exquisitely delicate song about a possible nuclear apocalypse, "
The Temptation of Adam
," to the snarling "
Mind's Eye
," JR branches out to fierce and beautiful territory unknown to lesser souls.
The Historical Conquests...
was supposedly the product of a few weeks in Maine last winter... I say, give the man a case of Jameson, a pair of wool mittens, and send him back - there's so much more music to be had.
Top Songs of 2007
(in no particular order or quantity)
Ryan Adams: "Oh My God, Whatever, Etc." & "Two Hearts," Easy Tiger
Ok, so Ryan's
Easy Tiger
didn't make my album list... but two of his songs did. I don't know if it's the über simple production, the sweetness of his voice, or the old-school country content of the lyrics, but whatever it is, "
Oh My God, Whatever, Etc.
" is definitely worth a listen... or fifty. The loud, rowdy, don't-give-a-crap Ryan is fun... but humble, quiet Ryan is brilliant.
Now, let's say, metaphorically speaking, that the most beautiful, amazing and delicious sandwich Ryan Adams ever made was
Cold Roses
. It was glorious, but in all the reveling in the brilliance of said sandwich, RA just plumb forgot he had an avocado ripening in a paper bag. "Two Hearts" is that avocado.
Cold Roses
was fine without it, but I'm glad Ryan remembered it on his kitchen counter and made it the delicious and creamy guacamole core of
Easy Tiger
. You know what I mean?
Glen Hansard & Marketa Irglova: "When Your Mind's Made Up," Once [Soundtrack to the Motion Picture]
There's something about this song. You get a moment of it in the
Once
trailer and I spent much of the movie waiting, just
waaaiting
for it. And then,
bam
. Magic.
Andrew Bird: "Darkmatter," Armchair Apocrypha
Do you wonder where the self resides? / Is it in your head or between your sides? / And who will be the one who will decide its true location?
On what is arguably the most rocking track from
Armchair Apocrypha
, Andrew Bird soars with whirling guitars, introspective lyrics, bold vocals, and that trademark whistle of his; in short, "Dark Matter" is a focused beam of ever-expanding energy that could blind the uninitiated.
Feist: "My Moon My Man," The Reminder
It was a toss-up between "I Feel It All" and "My Moon My Man." "I Feel It All" has self-consciously spunky lyrics (
Oh, I'll be the one who breaks my heart/ I'll be the one who holds the gun
), and the other is sexy and rowdy... and the video has dancing...
on moving sidewalks
! Nothing competes with moving sidewalks, ergo, "My Moon My Man" wins. The groovy bass and whispery vocals drive this song... straight to Funkytown. Oh snap.
Aqualung: "Pressure Suit," Memory Man
I could have chosen several from
Memory Man
, but I chose this one because it makes me happy. It soars high, but holds you close to its caring bosom for the ride. In terms of romantic indie piano ballads, "
Pressure Suit
" is the best there is:
I'll be your four leaf clover/ I'll be your pressure suit/ I'll be your angel wings/ I'll be your parachute/ I'll be your running reason/ I'll be your only reason...
swaddled by the whispering chant of "I can't stop loving you, I can't stop loving you." Well played, Mr. Hales... well played, indeed.
Lupe Fiasco ft. Matthew Santos: "Superstar," The Cool
Every rapper who tastes even a smidgen of success has to put out a song about what it's like to taste said smidgen of success. "
Superstar
" is Lupe's. Fellow Chi-Town native, Matthew Santos, donates a lazily soulful chorus that pairs nicely with LF's lively style.
Lisa Hannigan: "Last Leaf," The Cake Sale
At first, I was bummed to hear that Damien Rice and Lisa Hannigan had ended their creative relationship; after hearing
this track
from the
The Cake Sale
charity album however, I realized she's going to be just fine...
Kanye West: "Good Life," Graduation
This is not the world's most beautiful, thought-provoking song. But just
turn it up
.
M. Ward: "Headed for a Fall," To Go Home EP
While M. Ward didn't release any new LPs this year, this song was on the
To Go Home EP
, released earlier this year. The music feels older than old, but thumps and swings with horns, and crashes around the studio with a blithe liveliness that's pretty damn rare in M. Ward's music. I enjoy this M. Ward. What do you say, M. Ward? More of the same to come?
Magnet: "Gospel Song," The Simple Life
Oh, Norway. Not known for much more than salmon and vikings. But Anglophonic singer/songwriter Magnet, released in a nugget of delicious pop with smoky vocals, plucked strings, dabs of cello, and group clapping... and man, I am a sucker for group clapping.
Beck: "Timebomb," Timebomb Single
Hey! More group clapping! On more than once occasion, I became embarrassed after realizing that I was not alone while I was dancing to "
Timebomb
." Luckily, the catchiness of this song possesses the power to distract from even the worst white girl dance moves.
Josh Ritter: "To The Dogs Or Whoever" & "Wildfires" (bonus track), The Historical Conquests of Josh Ritter
Two songs from the same album, but nearly polar opposites.
With its ragged guitar, boisterous chorus, and schizophrenic lyrics that drag you across centuries, down to the depths of the ocean, to battle fields and a sun-speckled afternoon, "
To The Dogs Or Whoever
" is arguably the best song Josh Ritter has ever written. It's impossibly perfect - the sort of song that brings a fan to their feet and his musical contemporaries to their knees. This song is all the proof you need that Josh Ritter's love affair with words is more alive than ever.
"
Wildfires
" on the other hand, is an understated slow burner of an acoustic ballad, along the tonal lines of Ritter's own "Wings" or "Idaho." This bonus track to
The Historical Conquests...
gives goosebumps with its simplicity:
you must be living on wildfires.../ that's why your eyes are smoke and ash/ you must be living on earthquakes.../ must be why my heart breaks every time you pass.
The lamentation, the vast, nearly-empty expanse of the production, the guitar with a pulse so strong you'd swear it was alive... this one is a heartbreaker that really gets under your skin.
Okkervil River: "Our Life Is Not A Movie Or Maybe," The Stage Names
The melodrama! The joy! The soaring, nearly cracking vocals! A little dissonance, zero to sixty and back again... and back again,
this song
is (sort of) reminiscent of the Talking Heads at their most riotous. That is to say, in spite of the tragic lyrics, this song is fun.
So that's it. That's the list. Happy New Year, all. May it be everything you wish it to be.