As a girl bearing what is pretty much universally recognized as a masculine name (despite whatever my dad attests to), I've dealt with some crap. Not necessarily as much as, say, a boy named "Sue" would run into, but a decent helping. Such as being stuck with male roommates in college - on two separate occasions. Not being on the list for girls' gym class -
every year
- and having to walk down to the main office to get the bureaucracy straightened out so that the lumbering symbol of irony - the overweight gym teacher - didn't have to. Inevitably, I'd end up getting stuck in something lame like badminton - before it was actually fun to play badminton (see: college). Being called every form of "Alexandra," as well as "Alice" and "Allie" (oh, how I hate "Allie"), though that is a pretty much a universal gripe for everyone with the name "Alec." I just happen to have the double whammy of a relatively uncommon name in combination with it being a masculine name.
So catching
this article
in the NY Times today was something of a relief - though the article focuses on the other side of the gender equation - guys with women's names. I've asked my parents many - MANY - times why they chose "Alec," and never really got a straight answer. My dad says it's partially because he knew "more than one" female Alec who was apparently kickass enough to name spawn after. I find this story to be rather dubious. My mom has said, "I wanted to name you 'Obi Wan Kenobi' but dad shot me down, so we went with 'Alec'... as in 'Alec Guinness.'" I am actually
less
skeptical about this story than I am the one concerning female Alecs roaming the southern New England area in the 70's.
What I've noticed over the years, perhaps surprisingly, is that guys are more likely to say my name properly on the first try, and to spell it correctly, as well. They rack up even more awesome points if they say something like "cool" after hearing my name (which happened just last week - thanks, Borders bookstore guy.) With women, I usually have the following conversation...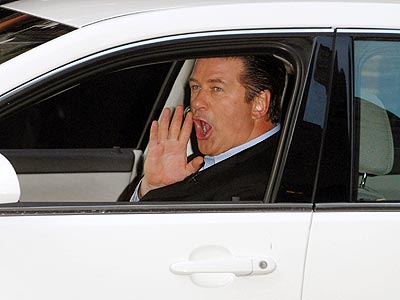 Random lady: Ok, what's your name?
Alec: It's Alec... A-L-E-C.
RL: Alex?
A: No - Alec. A-L-E-
C
.
RL: A-L-E-X?
A: With a "C."
RL: A-L-E-C-K?
I can't tell you how many times that exchange has taken place. Where did the "K" come from? Throwing it in for some flavor? It's not like it's an Eastern European name with Cyrillic characters or has silent letters just sitting, waiting to screw you up. It's four letters. It's the name of not only of classically trained, tragically deceased actor Sir Guinness, but of the best Baldwin, as well.
The best Baldwin!
The name has brought me some good luck - if the woman in housing at SACI hadn't stuck me with that random guy (oh, Soheil), I would have never ended up at the Buf, and probably wouldn't have made friends with Alex and Eryn and definitely wouldn't have made friends with Rachel since we didn't share any classes... it's weird to think how much would be different in my life if I was an "Emily" or a "Sara." I believe that everyone is shaped by their name, certainly - but mine has practically run my life at points - for better or for worse.
I have met a guy Alec before. He had a bit of an existential/gender crisis upon meeting me, but I'm sure he's fine since I explained that, no, his name is not a girl's name; my name is the boy's name. I've always wondered what would happen if I met another female Alec... we could swap stories and demented versions of our name... but then, having this name is sort of
my
thing. I kind of hate it... but it's mine...
There can only be one Highlander.